This is the Virtual Home of the Budapest Exiles !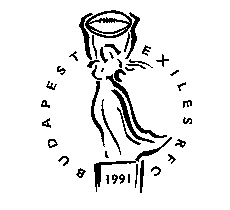 The club was founded in 1991 and hasn't gone under yet

Club colours are pink and black quarters - any shorts and socks will do

We have no fixed abode, `home' games are at the Chinoin ground in Budapest IV.

The Club President is Monsieur Jean-Claude Fedou

We are always looking for poor sods to join us - mail Gogs if you are interested

This site is maintained by the Eagle
This site was created on 16/17th November 1998, and should get the next update before the end of the millennium.
---
Here are the wonderful things you can learn about while at our site:

Go to the top of this page

Romance

Drugs
Quiz

Events

Club history
Players past and present

A good links site

Fixtures and results
Vote for the Exiles Awards!
---
Or send us some mail:

Sign Our Advice/Abuse Book!

Or Just Look...
You are visitor no.

to our site since Nov. 16th 1998